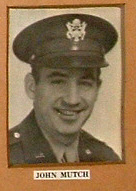 (January 11, 1946) -- Funeral services for Maj. John Mutch, 39, of Summit street, East Orange, formerly of this town, are being held at 2:30 o'clock this afternoon in the Stirratt Funeral home in Franklin avenue.
Major Mutch died Tuesday at Percy Jones General hospital, Battle Creek, Mich., after an illness of five months.

Major Mutch, son of the late Mr. and Mrs. John Mutch, was born in Nutley. As class president, he was graduated from Nutley High school in 1923, and received his degree from Rutgers in 1926 where he was a member of the honorary scholastic society, Phi Beta Kappa.

Maj. Mutch is survived by his wife, Jane Anderson Mutch, of East Orange, one brother William of Montclair and seven sisters, five of whom live in Nutley.
---
From The Nutley Sun January 11, 1946:
FUNERAL TODAY FOR MAJ. MUTCH
Former Nutley Resident Dies in Michigan After Months' Illness
June 30, 1944
JOHN MUTCH IS MAJOR IN ARMY
American Legion Post 70 Memorial
---
---
---