Nutley, N.J., resident Pervis Robison Jr. was one of 129 servicemen killed on April 10, 1963, when U.S.S. Thresher, a new class of submarine sank during sea trials about 200 miles off the coast of Cape Cod, Mass.
Robison, who had attended Nutley schools all his life, had been a track star at Nutley High School where he was graduated in 1960.
He is survived by his parents, Margaret and Pervis Robison, of Passaic Avenue.
Read More: They Lost A Son - April 1963
---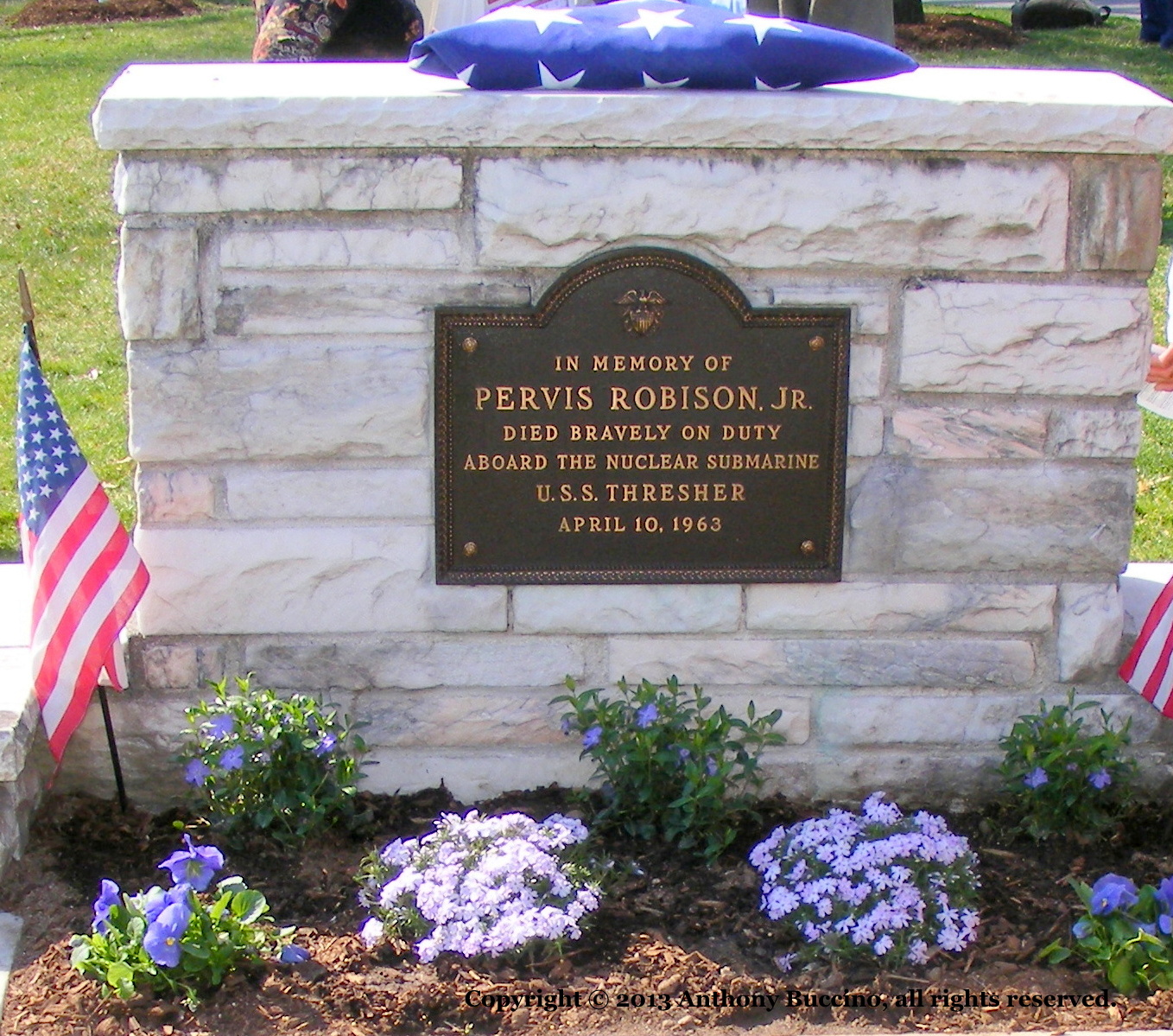 Pervis Robison memorial, Nutley, N.J.
50th Anniversary Memorial
50th Anniversary of Submarine's Loss Is Remembered NJ Hometown
Nutley seaman remembered 50 years after submarine tragedy The Nutley Sun
Fallen Nutley War Hero lives again in solemn event The Jersey Tomato
Nutley Officials Honor Fallen Veteran Pervis Robison Belleville-Nutley Patch
---
Nutley Remembers Seaman's Death - by Rob Williams, Star Ledger (April 11, 2003)
Pervis Robison - Visit the U.S.S. Thresher memorial site
---
Other members of the crew from New Jersey:
Thomas Edward Clements
Electronics Technician Third Class
United States Navy
Thomas Edward Clements was born on July 17, 1937, in Bronx, N.Y.
He was active in scouting while attending Roosevelt Junior High School in
Westfield, N.J. Thomas was graduated from Westfield High School.
===
Robert Dennis Kearney
Machinist's Mate Third Class
UNITED STATES NAVY
Robert Dennis Kearney was born on August 23, 1941, in Glen Ridge, N.J.
He attended Columbian School in East Orange, N.J.
He was graduated from Main Street School, Denville, in 1956,
and from Morris Hills Regional High School, Rockaway, in 1960.
= = =
Norman Gilbert Lanouette
Quartermaster First Class
UNITED STATES NAVY
Normal Gilbert Lanouette was born on October 17, 1929, in Newark, N.J.
His boyhood days were spent in Rahway. He attended Rahway High School.
= = =
Frank John Malinski
Lieutenant Junior Grade
UNITED STATES NAVY
Frank John Malinski was born on August 6, 1939, in Glen Ridge, N.J.
===
Karl Paul McDonough
Torpedoman's Mate Third Class
UNITED STATES NAVY
Karl Paul McDonough was born on May 26, 1938, in Camden, N.J.
= = =
Burnett Michael Shotwell
Electronics Technician Seaman
UNITED STATES NAVY
Burnett Michael Shotwell was born on August 19, 1942, in Morristown, N.J., the son
of Mr. and Mrs. Burnett E. Shotwell of Red Bank, N.J.
He attended the Middletown Township High School in Middletown Township.
= = =
Roger Edwin VanPelt
Interior Communications Electrician First Class
UNITED STATES NAVY
Roger Edwin VanPelt was born on January 6, 1935, in Cranford, N.J.
Source: USS Thresher
---
Sources
CSP Navy
Hazardous Duty Nuclear Submarine Accidents